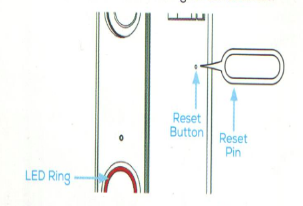 .To set up your Doorscreen CW013/CW014 via QR code mode, please follow the instructions below:
If Easy mode fails, make sure the red indicator light is blinking. If it's not, reset the smart doorbell by inserting the reset pin into the reset button.
Hold it in for 10 seconds. On the application click the "+" icon on the upper left corner of the application.
Then select Smart Doorbell. It will then ask you if the device is on and make sure the indicator light is flashing quickly or a prompt tone is heard. Then click "Advanced".
on the upper left corner of the Geeni application. Select QR code. It will take you back to the previous screen this time tap on "Next step".
And then enter the WiFi Password for your 2.4Ghz connection.
Scan the QR code using your doorbell camera, you should hear a beep then on the app tap on "I heard the Beep".
It will take you to the progress screen where you can see the status of connection.